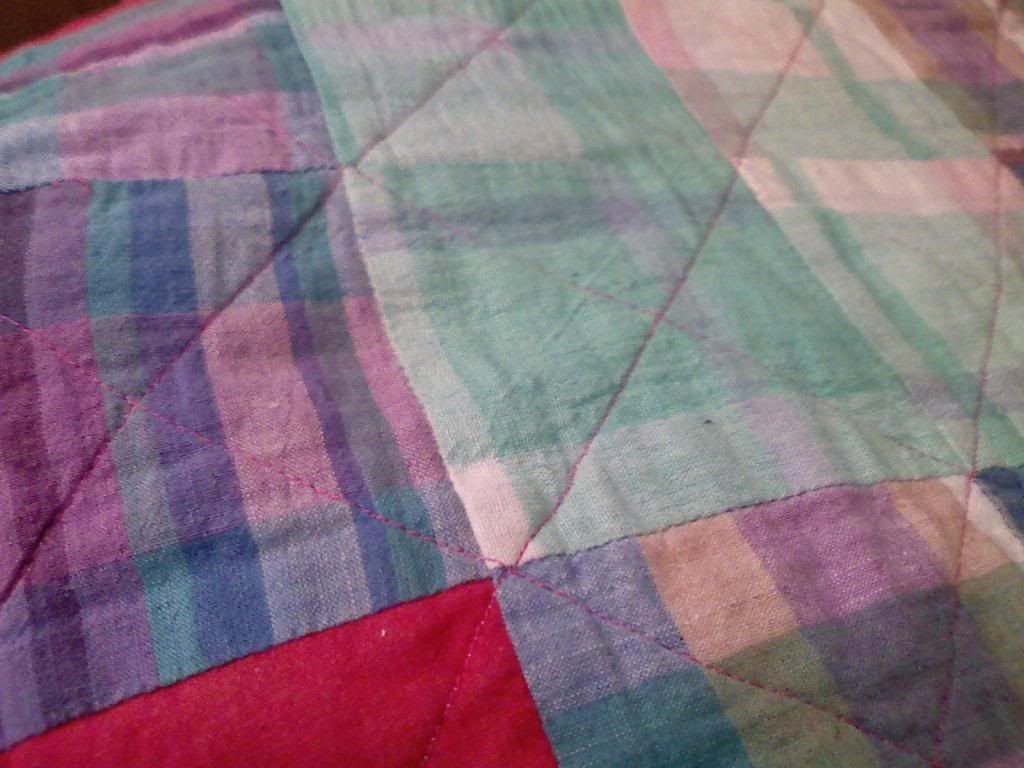 my original quilt, before becoming pincushions
I was maybe 11 when my great-aunt taught my younger brother, sister and me to quilt. They're 2 and 4 years younger than me, and I don't really remember how old any of us were. At the least, we were all big enough to use a sewing machine.
Whenever we visit, she's got an activity for us planned. She took us upstairs, where we each picked out 16 blocks. We pieced them together, backed and quilted them. We each went home that year with a doll quilt we had made entirely by ourselves.
My aunt and her daughters(different aunt) taught me to crochet Christmas break my second year of college. A couple years later, when I had the time, I took out my hook and scoured the internet for interesting and challenging patterns. I made 13 different squares and made a little throw/sample for my sister. Now I feel comfortable enough with crochet to write my own patterns all the time.
Aside: my design book - I'm working on this pattern: I have a yucky acrylic camouflage yarn that I want to make as pretty as possible, like the crystals hanging from a chandelier or a box of candy...
design book pattern - in a holding pattern
In any case, back to today's topic: I want something like that for quilting! I've had my basic lesson, and now, time permitting, I want a sampler that will whip me into shape!
I've been flipping through books of block I've found at the library and confess I'm not really moved. My great-aunt(the one who quilts) made me a blanket years ago and I love to touch it more than anything I've got that was crocheted or knit. I bought these 14 quarters and the only thing I want to do with them is disappearing 9 patch.
BUT
I found
Amy's creative side and her sampler quilt along
!
More thrilled than I can say... just worried that school starts again in less than a week.
What happens next?! Sadly I have textbooks to get started on before class next week!