Kind of a strange day, on the drive to class I started designing a knitting project bag for a friend's birthday. By the time I got to class I had already chosen fabrics. I got home a whipped it out at my new work table.
The idea is a large drawstring bag to open in your lap. I wanted it to open out almost flat, sop you can reach everything at once. I chose a drawstring top because I had this pretty cream and gold ribbon and because I want the bag to close up just as easily.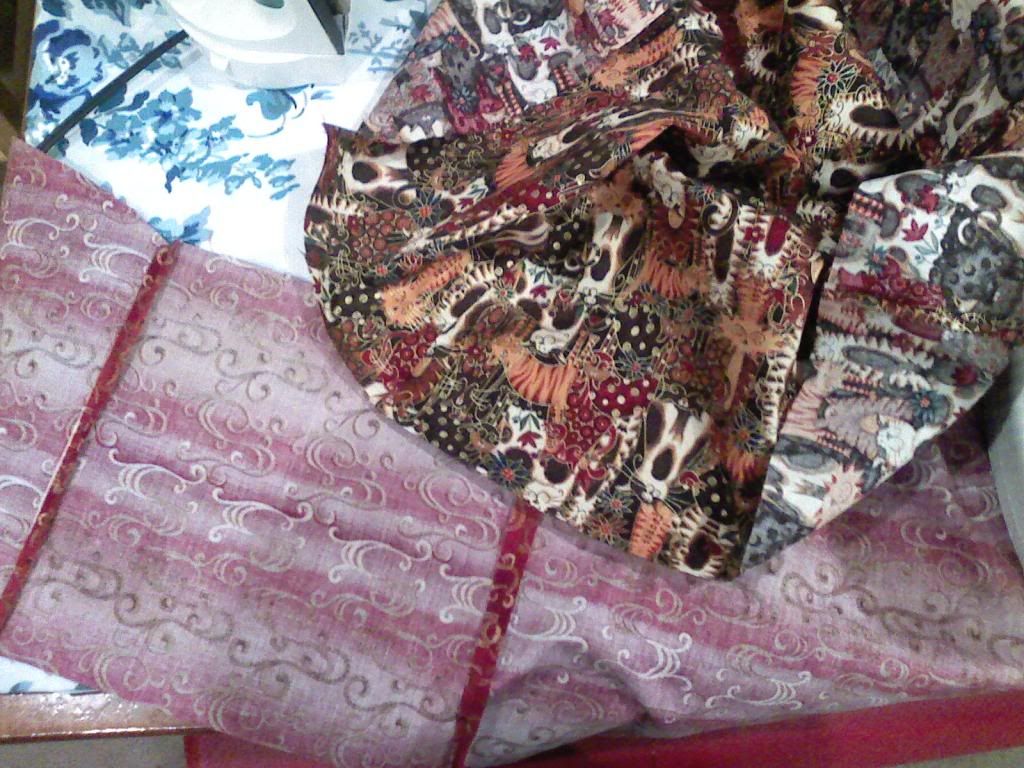 At the ironing board: the red is the lining and the cats are the outside.
8 Curved-sided trapezoids: four for the lining and four of the cats. Almost: 2 of the cat sides were made 1/2 an inch wider, cut in half and sewn back together for a fake "button hole." A rectangle of each fabric for the bottoms. Sew each "bag" together, leaving a 3 inch gap in a bottom seam of the lining. Fit the lining inside of the cat bag, right sides together and sew the top shut. Flip right side out through the gap and sew an inch down from the top to make a casing for the drawstring. Thread two ribbons and tie them.
Finished and open in my lap




Cinched shut and tied in a bow.
Close up of the kitties and if you can see the "button hole" for the drawstring?
This ended up being faster than I thought (I had no homework). I think I'll make a roll-up for her needles and a notions bag. I have 2 weeks and leftover ribbon